Becoming a Registered Nurse
Registered Nurses


There are more than one way to become a registered nurse (RN). One can either take a Diploma in Nursing course which is a degree usually awarded by hospital based schools or Associate of Science in Nursing which are usually awarded by community colleges or taking a four year nursing course to earn a Bachelors Degree in Nursing. If one has gone through any of those three nursing courses, one is eligible to take the NCLEX for RN.
NCLEX (National Council Licensure Examination) is an exam developed by the National Council of State Boards of Nursing in the United States to test the nursing skill of an examinee. Unless one passes this exam, one cannot obtain a license in order to work in the field of nursing. Questions asked during these exams are mainly topics regarding knowledge, analysis and application of nursing theories at entry level.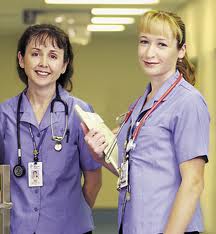 Questions are usually in multiple choice but recently there are broad questions are asked that require more detailed answers.
If one passes the NCLEX and becomes a registered nurse, it doesn't end there. One can go on to take advance courses for nursing specialization. Some of the fields in nursing specialization includes surgical nursing, forensic nursing or a nursing educator to name a few. The basic salary for registered nurses average around 30k to 50k a year but nurses who have specialization can receive up to 75k to 100k a year. Currently with the shortage of nurses, it isn't really difficult to find a job in the nursing field.