Great Stude Guide for NCLEX-PN Exam
Need help studying for the NCLEX-PN exam? The NCLEX-PN is necessary for LPN (Licensed Practical Nurses) to be a professional in their field.
This Saunders review is one of the most top-rated in its genre of study materials. It has core-content review, practice questions with rationales, plus strategies and tips for test-taking. Linda Silvestri is the author of several study guides, and this one includes her Pyramid to Success learning features, which highlights the key information, plus has 1,000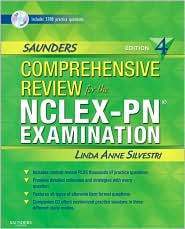 high-quality review questions that are very similar to the actual NCLEX-PN.
Also included is a CD which has 2600 more practice questions, allowing you to alternate between thousands of questions to get a more-rounded foundation to pass the NCLEX-PN and become an LPN.

by Linda Anne Silvestri PhD RN

Site Price: $39.35 (regularly $47.95)
One reviewer on Amazon says:
This is far and above the best book for LPN students. I checked out many books from the library and then found this one. The book is broken down into systems with a great review of that system before the questions. The disc is set up with numerous ways to take tests and from former LPN students, it is similar to the actual NCLEX.