NCLEX-RN Registered Nurse (RN) Study Guide
Registered Nurses have one of the most hands-on jobs in the nursing field with patient care. To become an RN, a nurse must obtain a license after completing a nursing program, and they vary by state. All nurses must pass the National Council Licensure Examination (CLEX-RN) in order to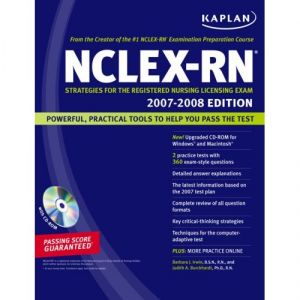 become a professional RN. It covers four categories, like physiological integrity, healthcare environment safety, psychosocial integrity, and health promotion.
The most recommended book is the Kaplan NCLEX-RN Strategies, Practice, and Review book. Nurses confess it was the hardest to study but most similar to the style of questions on the NCLEX-RN.
One RN testified on Amazon:
Coming from a newly registered nurse, this book was my saving grace on taking and passing the NCLEX on the first try. It helps you dissect the question to find out what it is really asking and offers very practical and useful strategies in how to look at the question. It even comes with a CD w/ many practice questions and rationales and has a paper version of the test in the back. Had I not used this book, I'm pretty sure I would have failed the NCLEX because the test tests more of your critical thinking skills than it does your knowledge of pathophysiology, pharmacology, etc.