When you're prepping for the NCLEX for pediatrics, you'll need to make sure you're well-informed and practiced. This  is one of the books in the Prentice and Hall reviews series, covering Child Health Nursing. It breaks down all the "important" information so that you can find what you  need quickly.
This includes a CD-ROM that has more test-taking practice questions, with rationales for right and wrong answers. There are vocabulary reviews, practice to pass excercises, NCLEX alerts, and critical thinking case studies. It covers everything you need to know!

By Mary Ann Hogan, Vera Brancato, Judy White, Kathleen Falkenstein
Site Price: $25.77 (usually $37.80)

Review on Amazon.com:
I am a senior nursing student working towards my BSN. This book helped me out a great deal. Sometimes textbooks go on and on about certain topics instead of giving you the basics (getting to the point). This book breaks pediatric nursing down to the science. It gives you the information without all the unnecessary mumbo-jumbo. This book is a great aid when reading your text or during lecture. I received a B (88%) out of my pediatric nursing course just from studing this book 90% of the time. Quiet as kept, a lot of nursing professors take their information and exam questions from reference books. Trust me, its well worth the purchase!!
If you love children, becoming a Pediatric Nurse is probably the field for you. On a daily basis, they deal with infants, children, and adolescents, from everything including shots, illness, and more.
A Pediatrics Nurse must be able to communicate with youth, which means patience, understanding, and a sharp eye. To become a Pediatrics Nurse, you must have a Bachelors of Science in Nursing, and need to be a Registered Nurse (RN). They also must pass the Certified Pediatric Nurse (CPN) exam.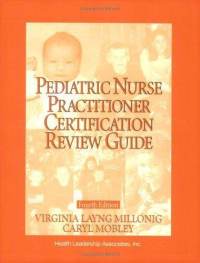 Pediatric Nurse Practitioner Certification Review Guide
Site Price: $78.91
Edited by Virginia Layng Millonig, Caryl E. Mobley

Many Certified Pediatric Nurses love this study guide. They say, after reading it a couple times, you should ace the test. The review is divided into sections so that your mind has an easier time absorbing the information, covering growth, development, and health in infants, children, and adolescents.
For nurses who wish to focus solely on acutely/critically ill adults, pediatrics, and neonatal patients, the CCRN is perfect. Pediatric nurses are recommended to have this certification in order to be ready to handle the pediatrics department efficiently.
It tests the nurses ability to analyze a patients care, and their ability to handle emergency and critical situations.
There are many resources to study from, but these are the most utilized for success.
The American Association of Critical-Care Nurses's Core Corriculum for Pediatric Critical Care Nursing
Robin Donohoe Dennisons' Pass CCRN!