The Best NCLEX-RN Review
When it comes to studying for your NCLEX-RN exam, it's important to realize what study guides actually work, and which ones don't. Lippincott's Review for NCLEX-RN is one of the most highly rated study guides for someone trying to become a Registered Nurse.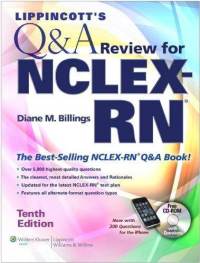 The study guide covers strategies and practice questions for the NCLEX-RN exam. It is written by Diane Billings, Ed.R, RN, FAAN, who is recognized nationally for her test-item writing. Her books have helped thousands of hopeful-nurses taking NCLEX exams.
Includes over 5800 practice questions, 300 downloadable questions to put on your iPod or phone, a bonus CD with 1300 more questions, tested study strategies, detailed and thorough answer rationales, and alternate-format questioning. It covers all your bases!
Lippincott's Q&A Review for NCLEX-RN


Site Price: $29.71
I bought 3 different study guides and this one was BY FAR the best. in fact I think I would have failed the NCLEX if I had just used my other study guides and not bought this one. the study topics are broken down in such a smart way; you will get plenty of different questions on each topic that you will breeze through the NCLEX test. it helped me PASS just this May!!!
but give yourself time to study because there are a TON of questions and you will need almost a month to get through this whole book and absorb all of the material.
GREAT BUY