If you love children, becoming a Pediatric Nurse is probably the field for you. On a daily basis, they deal with infants, children, and adolescents, from everything including shots, illness, and more.
A Pediatrics Nurse must be able to communicate with youth, which means patience, understanding, and a sharp eye. To become a Pediatrics Nurse, you must have a Bachelors of Science in Nursing, and need to be a Registered Nurse (RN). They also must pass the Certified Pediatric Nurse (CPN) exam.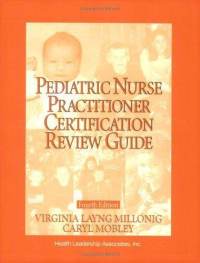 Pediatric Nurse Practitioner Certification Review Guide
Site Price: $78.91
Edited by Virginia Layng Millonig, Caryl E. Mobley

Many Certified Pediatric Nurses love this study guide. They say, after reading it a couple times, you should ace the test. The review is divided into sections so that your mind has an easier time absorbing the information, covering growth, development, and health in infants, children, and adolescents.
Pediatric nurses are nurses that take care of the younger people such as babies and children. They help newborns that are born with breathing trouble; mainly they treat children and even parents with no one around to help them. With no family or friends that can help them with their problem whatever it is.
These nurses can help from broken fingers to broken toes, mostly intensive care for very sick people young and old. You can practice this nurse's class in medical school and get trained personally by the doctor or type of patient you will be working for or at.
Young and old all patients should be treated with the same care which should be the best they have to offer.