ANCC CNS Adult Health Exam Study Guide
A Clinical Nurse Specialist (CNS) is an advanced practice nurse, and they focus on a specialized area. They work in different medical environments, such an emergency rooms, operating rooms, or can deal with clinical or surgical procedures.
While similar to the rule of a Nurse Practitioner, a CNS is more complex. They do research and education requirements for patients to receive the best care possible, and must create solutions for the nursing staff.
Not only must a CNS have certification from the American Nurses Credentialing Center (ANCC) in CNS, they must also be a Registered Nurse (RN). The ANCC has different certifications, such as Adult Health, Pediatrics, Psychiatry and Mental Health, and more. The most commonly taken is the Adult Health Exam.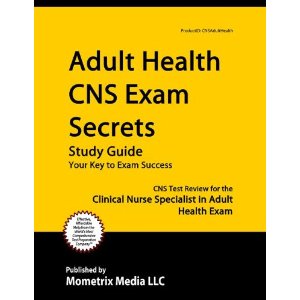 For the Adult Health CNS Exam, many CNS nurses recommend study guides like Adult Health CNS Exam Secrets Study Guide: Your Key to Success: CNS Test Review for the Clinical Nurse Specialist in Adult Health Exam. Each topic is researched and explained in easy ways, and includes reviews to help you prepare.