Certified Pediatric Nurse Exam Study Guide
If you love children, becoming a Pediatric Nurse is probably the field for you. On a daily basis, they deal with infants, children, and adolescents, from everything including shots, illness, and more.
A Pediatrics Nurse must be able to communicate with youth, which means patience, understanding, and a sharp eye. To become a Pediatrics Nurse, you must have a Bachelors of Science in Nursing, and need to be a Registered Nurse (RN). They also must pass the Certified Pediatric Nurse (CPN) exam.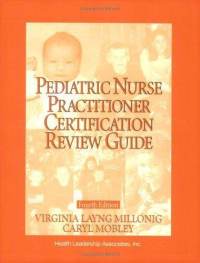 Pediatric Nurse Practitioner Certification Review Guide
Site Price: $78.91
Edited by Virginia Layng Millonig, Caryl E. Mobley

Many Certified Pediatric Nurses love this study guide. They say, after reading it a couple times, you should ace the test. The review is divided into sections so that your mind has an easier time absorbing the information, covering growth, development, and health in infants, children, and adolescents.