Exam Review PACU Certification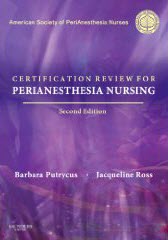 Certification Review for PeriAnesthesia Nursing

Site Price: $42.44


PACU (post-anesthesia care unit) is the certification needed by the American Society of PeriAnesthsia Nurses (ASPAN) which grants a CRNA right to aid during anesthesia and helping patients recover.
This book, Certification Review for PeriAnesthesia Nursing, is written by ASPAN, and is a question-based CAPA and CPAN exam review. There are 700 questions, explaining rationales and references. It tests your core knowledge, skills, and principles that are necessary in the field.
Become an integral part of hospitals and other medical facilities with your certification.